STDEV(), STDEV.S(), and STDEV.P() can be used to calculate standard deviation in Excel. It depends on if you are calculating sample or population standard deviation.
Sample Standard Deviation:
Use either STDEV() or STDEV.S().
Population Standard Deviation:
Use STDEV.P().
Example 1
The following is a sample of 6 students. You can use =STDEV(B2:B7) to calculate the sample standard deviation, which is 6.15.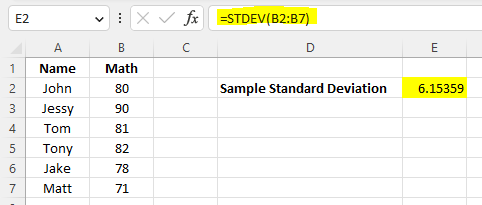 Example 2
Example 2 uses =STDEV.S(B2:B7) to calculate sample standard deviation. As expected, the result is 6.15, which is the same as in Example 1.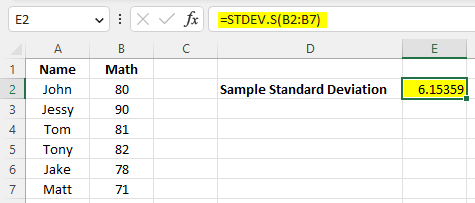 Example 3
Suppose that a whole population is a group of 11 students. Thus, we need to calculate the population standard deviation by using =STDEV.P(B2:B12).