In Excel, the term "####" typically represents a series of number or pound signs (#####) that appear in a cell when the content is too long to be displayed fully within the available column width. It is often referred to as the "overflow error" or "cell truncation." The following reproduces this term, namely #### in Excel.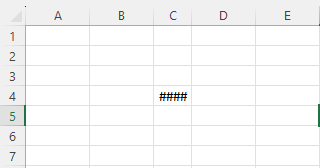 Methods of Removing #### in Excel
The pound signs indicate that the cell's contents are wider than the column width. To resolve this issue, you can try one or more of the following solutions.
Method 1: Increase column width: Double-click the right edge of the column header to automatically adjust the column width to fit the content. After the click, you can see the #### disappaer.

Method 2: Manually adjust column width: Position the cursor between two column headers until it transforms into a double-sided arrow, then click and drag to adjust the width. After the manual adjustment, you can see the #### disappaer.

By applying these techniques, you can usually resolve the issue of "####" in Excel and ensure that the cell content is properly displayed.
---
Further Reading
How to Calculate Mean in Excel